The biggest problem of an Affiliate Marketer is to choose the right plugin for their blog. Affiliate Booster Theme will definitely boost your affiliate marketing to the next level.
Today I am here to show you something which is Kulwant Nagi and his Team is developing since April.
Being an Affiliate Masterclass student of Mr. Kulwant Nagi ji, I had this issue of what plugin is the best for doing affiliate marketing, what plugin should I use to attract my readers, so decided to discuss the best Affiliate Booster Theme.
This is one of the best Plugin for Amazon Affiliate Marketing
In March, He had the idea to create an awesome WordPress theme for the affiliate marketers.
A theme so awesome that you get all the features in just one theme.
Right now there are so many themes in the market, but choosing the best is always a challenge.
and after choosing the theme, another challenge is to pick the right plugins.
What if affiliate marketers can have all the features in one theme?
This one idea excited him so much that he started building a theme in April with his team.
It's been 2 months since they are working day and night to add awesome features in this WordPress theme.
Affiliate Booster Theme will be the no 1 plugin for Affiliate marketers with overall Performance, Accessibility, Best Practice and also with Search Engine Optimization (SEO)
Here are some of the exciting features.
a. 6 header layout designs
b. 8 homepage designs
c. 4 single post designs
d. Schema optimized theme
e. Fast loading
f. SEO optimized
g. and many more exciting features.
​ Watch the video here
Here are some of the Affiliate Booster Plugin Blocks (They are adding 10 more blocks this week) and features of Affiliate Booster theme.
Please tell in the comments that did you love the features or not.
Here are 3 pricing models of Affiliate Booster theme.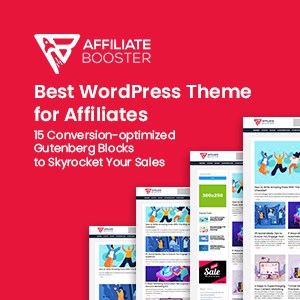 Pricing looks good and perfectly fit Indian market. It's going to be great product for Affiliate users.
They are going to add 15-20 more features in this theme this month, so I am very much excited.
Stay tuned ….will update soon..
Affiliate Booster Black Friday Deal
On Black Friday there will be 50% discount on all their plans. ACTIVATE DEAL NOW
Here are the Black Friday Deal details.
Start Date: 23rd November
End Date: 30th November
Discount: 50%
This discount will get applied automatically on all plans so there is no need to promote any coupon codes.
Join with me Affiliate Marketing Masterclass Course
Affiliate Booster Theme FAQ
Who Develop Affiliate Booster Theme?
Mr. Kulwant Nagi and his team has been brainstorming for an awesome theme since April 2020 and it's under developing and will soon launched in the market.
Who can use Affiliate Booster Theme?
Anybody, who wants to start Amazon Affiliate marketing and similar can use this theme for their purpose. It's so feature load that you no need to buy any extra plugin for your Affiliate Marketing journey.
What is the Price for Affiliate Booster Theme?
Here are 3 pricing models of Affiliate Booster theme.
Single Site – 1499 INR/year
50 Sites License – 2999 INR/year
Unlimited Sites – 4999 INR/year
Where to buy this Affiliate Booster Theme?
Affiliate Booster theme will be released soon for all the affiliates. You can get the latest information on their Facebook page and Website. You can also contact them on their e-mail [email protected]