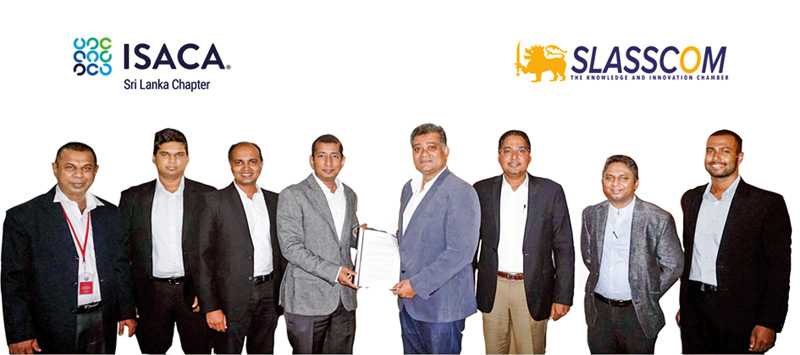 SLASSCOM and ISACA Sri Lanka Chapter teams at the signing 
---
Accelerating the acceptance and progress of cybersecurity in Sri Lanka through collaborative capability development, the Cybersecurity Centre of Excellence (CSCx) of Sri Lanka Association of Software and Services Companies (SLASSCOM) recently signed a Memorandum of Understanding (MoU) with the ISACA Sri Lanka Chapter. 
Formed to develop Sri Lanka into a global cybersecurity hub by providing cutting-edge cybersecurity products and services to the international market, the CSCx has been carrying out several initiatives since its inception in 2020.
"In our journey towards enabling the sector to generate revenue of $ 5 billion in exports, facilitating 1,000 startups and creating a highly-skilled workforce of 200,000 – including 10,000 new cybersecurity jobs by 2025, cybersecurity plays a significant role, both in terms of mitigating threats and creating a vibrant eco-system of cybersecurity service providers to create a globally competitive cybersecurity portfolio," said SLASSCOM Chairman Channa Manoharan. 
The MOU covers several aspects of the relationship between CSCx and ISACA Sri Lanka Chapter with regards to capability development initiatives, including knowledge-sharing through forums, webinars, and conferences, and organising programs on a profit-sharing basis, where the ISACA Sri Lanka Chapter would provide relevant experts to conduct workshops relevant to SLASSCOM member companies or be featured at SLASSCOM events and vice versa. Further, preferential pricing will be offered to SLASSCOM and CSCx members for all training programs, workshops and examinations preparation classes conducted by ISACA.
Driven by its objective of sponsoring local education, the ISACA Sri Lanka Chapter is a proactive player in promoting and elevating the visibility of assurance, security and governance. "Collaborating with ISACA Sri Lanka Chapter is a big step for CSCx, given the experience, expertise and the scope that ISACA maintains in Sri Lanka, backed by ISACA Global," averred CSCx Chairman Boshan Dayaratne, highlighting that CSCx, which is a part of the Technology Forum of SLASSCOM, has some ambitious goals for the year, for which the relationship with ISACA will be an asset. 
SLASSCOM CSCx plans to create a vibrant eco-system of Sri Lankan cybersecurity service providers, start-ups, and education service providers to build capacity and to create a globally competitive cybersecurity portfolio. In addition, CSCx will also play a pivotal role in positioning Sri Lankan cybersecurity products and services under a strong umbrella brand. 
The agreement also includes strategic collaboration where both parties will explore and execute specific projects to further topics on cybersecurity, build cybersecurity competence and critical mass, sharing Sri Lankan success stories internationally, and help promote original research related to cybersecurity, thus opening opportunities for commercialisation. CSCx and ISACA Sri Lanka Chapter will also collaborate to offer specialised courses of interest to various parties with the intention of creating capacity for niche skills that are in high demand in the cybersecurity industry.
"SLASSCOM has always been one of the forerunners when it comes to information technology and innovation, and now it has ventured into promoting cybersecurity – we are delighted to partner with the CSCx of SLASSCOM to reach out to Sri Lankans at all levels, through capability building, so that our country emerges as a practitioner and promoter of cybersecurity," shared President ISACA Sri Lanka Chapter Mahendiran Prashanthan.
In order to support members of both associations, the two parties have also agreed to share each other's commercial event details related to cybersecurity. 
The MoU signing took place at the ISACA Sri Lanka Chapter office. SLASSCOM Chairman Channa Manoharan and ISACA Sri Lanka Chapter President Mahendiran Prashanthan signed the MoU in the presence of CSCx Chairman Boshan Dayaratne, CSCx Co-Chair Rahal Jayawardena, SLASSCOM Associate Manager – Technology Forum Andrew Davy, ISACA Sri Lanka Chapter immediate past President and CSCx Capacity Sub-Committee Lead Sithira Wanniarachchi, ISACA Sri Lanka Chapter Vice President Saman Thilakasiri, and ISACA Sri Lanka Chapter Treasurer Lakmal Embuldeniya.
Source link