If you have a computer or an Android phone you can work from home and can earn daily in US dollars without any Investment. Yes, you heard it right. It's pure legit and FREE. For work from home jobs for students in college, this is real money for their daily expenses.
There is a human nature to give expert onion of any topics you say and there are people who really give real feedback of any questions you ask. But the sad part is that they don't get paid for sharing their knowledge. Do you like to share your opinion? With the ySense (earlier it was called Clixsense ) website as well on the Android App you can share your feedback with thousands of companies around the world and research firms that want to hear from you!
And in your expert opinion, you can receive cash (USD) for each completed survey and redeem your cash in your Bank account as well as for premium gift cards. You can give your opinion about any movies, TV shows, shopping experiences, and even new products/services.
You can Register with ySense today and be heard!
Introduction to ySense
ySense or Clicxsense is a popular platform where you can earn in US dollars sitting from home by sharing your expert knowledge. With the better internet accessibility and speed, it is now very easy to earn online with your mobile phone.
It has all the best features you will love plus new earning opportunities comes every day and reward options. ySense adds surveys from new providers like ProdegeMR, which offers to make money from top brands like Uber and Tidal and also Taluna surveys etc. You will love to do interesting surveys in the new format.
How ySense works?
Answer Survey questions and earns. You can download the ySense app today and be heard!
You genuinely answers all the question
Complete the offers
Track your progress
All your transaction history will be save on the app as well as on the ySense website.
How ySense helped work from home jobs for students
ySense helped many college going students earing their pocket money. And some students are earning so much that they are doing this for full time job.
Here are quick tips to make more money in ySense.
Activity – Be active in ySense. Login to your account at least 2-3 times a day to find all paid surveys, cash offers and tasks. Complete as soon as you find them.
Add-ons – You can download the browser add-on for Chrome, Firefox & Edge. You can instantly track account status and find any new surveys and Figure Eight tasks using these add-ons.
Forum – You can join ySense forum from your account. It will help you to find various tips and answers for common queries.
Referral – Promote ySense as much as possible. You will make much more with its affiliate program.
Why you should choose ySense?
Having a Boss free job is the dream for every student after completing their graduation. So not start from today. It is legit and more importantly, it is going to last for a long time. There are lots of benefit of using paid surveys like ySense
Less to no education or skills needed: You don't need a Degree or Education qualification or any kind of experience to start earning from online paid surveys like ySense
Can be used as part-time work: You can do an online survey when you have free time and start as a part time job initially.
You can work from anywhere & anytime: Yes, you are not bounding to any place or time. Wherever you want and whenever you want you can use your mobile phone to work on it.
Most of them are free to join: It is completely free to join and no need for any initial investment. Just your phone and internet connection which we already have.
Can be completed in Less Time: These surveys are small and short. It can be completed in no time and you will love doing this. Moreover, some of the surveys are so engaging that you will want similar surveys again and again.
You are your own Boss! : As I told you , when you start earning your own you will be the Boss of your own. You fixed a time when to work and how much to work. Make your strategy and do the best.
Payment proof
Mr. Pritam Nagrale has been successfully making money online since 2004. He has tried almost all the make money ideas and work from home jobs exist on internet. He had reviewed ySense in his blog moneyconnexion.com
Here is his earning proof.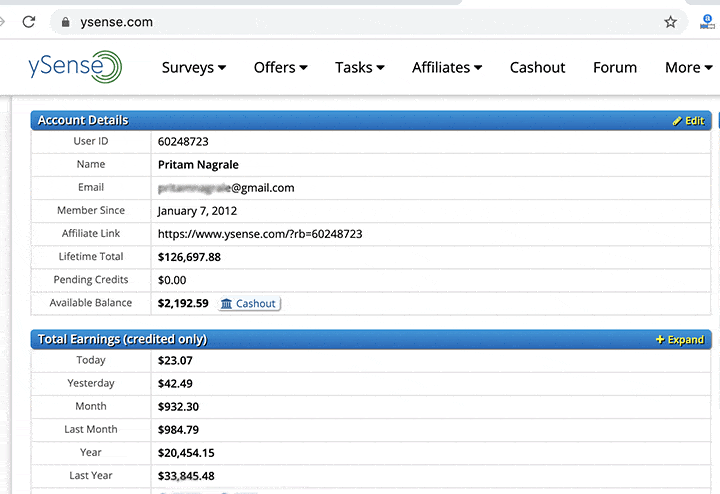 Conclusion
Without any doubt, ySense is the best platform to earn online in US dollars. There are people who is earning a lot from this small website. It is a perfect work from home jobs for students.
Here are the pro tips and survey secrets that will maximise your earnings on ySense…
Tip 1: Grab Surveys Quickly
Tip 2: Find Surveys That fit Your Needs
Tip 3: Honesty is Key
Tip 4: "Quota Full" or "Screened Out" doesn't mean down and out
Tip 5: It Makes Sense to Understand ySense
Tip 6: Refer Your Friends
I have also written an article on 10 most profitable online business where can get an idea how to do business online from home. For any help or if you want to read more click here
I hope this post helped you to understand how ySense work and how can you earn from it. Do join with my affiliate link ySense . Happy earning..